There are many choices of lenders as well as the kinds of loans needed to purchase your Dream Home. Here are some suggestions that we have:

RENOVATION LOANS - if you find that Dream Home and it needs to be renovated, remodeled, upgraded or improved, this is the loan for you. Click Here to find out more from Monica about these type of FHA or Conventional Loans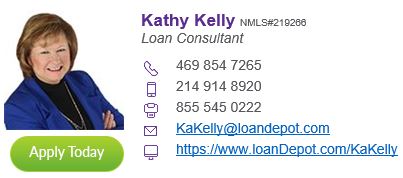 Kathy has several different kinds of loans to meet your needs. Some of them are:
Down Payment Assistance Loans - do you need help with your down payment. Click here for information about this type of help
Renovation Loans - FHA, VA and Conventional loans for remodeling, upgrading, improving a property you'd like to make into your Dream Home Click here for more information.
USDA Loans - this is a loan where seller can pay your closing costs and you can virtually get into your Dream Home with no money out of pocket. Click here for more information